Terry was born and grew up in northeast Texas. While in Texas, Terry was a police officer that worked patrol and traffic accidents. Terry even worked as a bodyguard for different celebrities.
After starting a family, Terry left the police force and became a teacher. He specifically taught economics, history and U.S. government. While in law school at Texas Wesleyan University School of Law, Terry worked with Gary Dobbs and Phil McGraw at Courtroom Sciences, Inc. That's right, Phil is better known as "Dr. Phil." After deciding to move the family to Charlotte, NC, Terry wanted to open his own law practice to focus specifically on helping other families.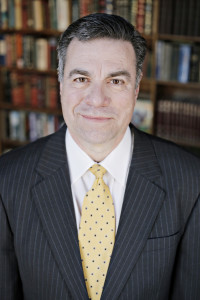 Since opening his firm almost 20 years ago, Terry has filed approximately 5,000 bankruptcies. Terry's entrepreneurial spirit began long ago – as a new college graduate, he owned and ran a convenience store. He made sure to instill that same work ethic in his children. Damon Duncan, also an attorney at Duncan Law, started mowing neighborhood lawns when he was 10. Terry's daughter is currently a licensed attorney in Charlotte, NC as well.
Terry has also taught other bankruptcy attorneys  in advance legal education classes complex bankruptcy topics that go far beyond normal bankruptcy issues. He is also certified by the North Carolina State Bar as a specialist in consumer and business bankruptcy law. Only select attorneys, after passing rigorous qualification standards, are designated as a specialist.
Terry is still married to his high school sweetheart, Rose, who is a Certified Public Accountant.
In his free time, Terry loves spending time with his grandson and working on projects around his house and garden. Most think he keeps a second office at Lowe's or Home Depot. He spends his weekends working in his garden, where he grows onions, lettuce, tomatoes, blueberries, cucumbers, squash, peaches, and more.
Now you know a little about Terry Duncan.  However, he's just one part of the Duncan Law team.  Learn more about the rest of the Duncan Law team.