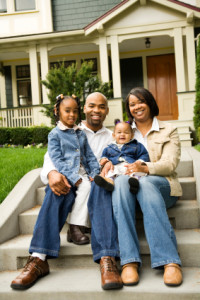 Yes, you may.  Please contact your bankruptcy attorney and request a release form allowing the mortgage company to discuss your loan with you.  Since you are in an active bankruptcy, the bankruptcy code protects you from being contacted by any creditors.  This protection limits the contact between the debtor and creditor, but allows for mediation by an attorney.  The release form will allow you to work directly with the mortgage institute.
Once the mortgage company has received the form and acknowledged the permission to discuss modification, you will need to start on the HAMP form (Home Affordable Modification Program).  Your mortgage company may have a specific site for you to access all the necessary forms.  I encourage you to explore your bank's website for information concerning this program.  If this endeavor proves fruitless, check out the Departments of the Treasury & Housing and Urban Development's Making Homem Affordable website.  There are links to help you prepare the initial package to present to your mortgage servicer.  It is very important to prepare this paperwork thoroughly and precisely.  Make sure to document any discussions with your mortgage company and to also make copies of everything.  Once the initial package is together and absolutely complete, you will send the paperwork via certified mail (with a return receipt.)
Now is the lovely waiting game.  Although it is hard, you may need to be very patient with your mortgage company.  A phone call to check on the status of your modification every month, or every two weeks if necessary, should suffice.  IMPORTANT:  Continue to make your Trustee payments for your Chapter 13 bankruptcy! If you fall behind on your payments to the Court, your case will be dismissed and you will no longer be under the protection of the Bankruptcy laws.
Once you have heard from the mortgage company, you will contact your attorney again.  You will need to provide your attorney with the confirmation of the agreement to the modified payments.  The Bankruptcy Court must approve the loan modification before it goes into effect!  A Motion to Incur Debt must be filed on your behalf in order for the modification to be considered.  It may take up to 30 days before you will receive a response from the Bankruptcy Court.  After a response is received, your budget and plan payments will need to be revised by your attorney.
Note: before you decide to endeavor on this extensive project, you must realize: when your attorney files a motion or revises your plan on your behalf, there are attorney fees that will be added into your plan.  So before you commit to a modification with your mortgage, make sure the reduced payments are worth the hassle.