You are here:
Home
/
After You File
/
What Happens When I Surrender My Property in Bankruptcy?
What Happens When I Surrender My Property in Bankruptcy?
In your bankruptcy, you can choose to "give up" or surrender your secured property such as a house or a car to eliminate the debt.  It would be lovely in the world of bankruptcy if you could just eliminate the debt and keep the property, but if that were the case, everyone would file bankruptcy!
Once your case is filed, the court will notify your lender that your intention is to give up your property.  At that time, it is up to your lender to file a Motion for Relief from Stay with the court, which basically asks for permission to take the property back from you (because you're protected under the bankruptcy stay, they will not go the standard route of foreclosure or repossession).  Since you have indicated that you no longer wish to retain the property, your bankruptcy attorney will not object to this motion, which will result in an Order from Relief from Stay.  Once the order comes through, the lender has every right to start the foreclosure or repossession process. As long as your bankruptcy is filed first, the foreclosure or repossession will not appear on your credit report.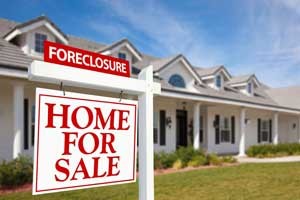 If you have a home, the foreclosure process is not as long and drawn out as usual.  Since you have indicated that you no longer want the house, they are not going to give you a hearing date because there is no need for the hearing (you are giving it up, who is going to contest the sale?) which will result in a direct sale date.  Since your bankruptcy lawyer is not on the loan, they will not notify us of the sale date, it will go directly to you, and that will be your indication of how long you have to remain in the home.  There is no general timeframe for this, in some cases, homes are foreclosed on within a few months, and in some cases it's over a year before the lender starts foreclosure process. You will usually have, at a minimum, 45 days before you have to move out.
If you have a car, the process is a bit simpler.  You will still have the standard Motion and Order on Relief from Stay, but in this case, you will simply call the lender and make arrangements to either turn the vehicle in or for them to pick the vehicle up. If you turn it in, make sure you take off your license plate and write down the name of the person you turn it in to.